Case Study Of Pre-Fabricated Steel Mezzanine For Dispatch Warehouse Of One Of Leading Fmcg.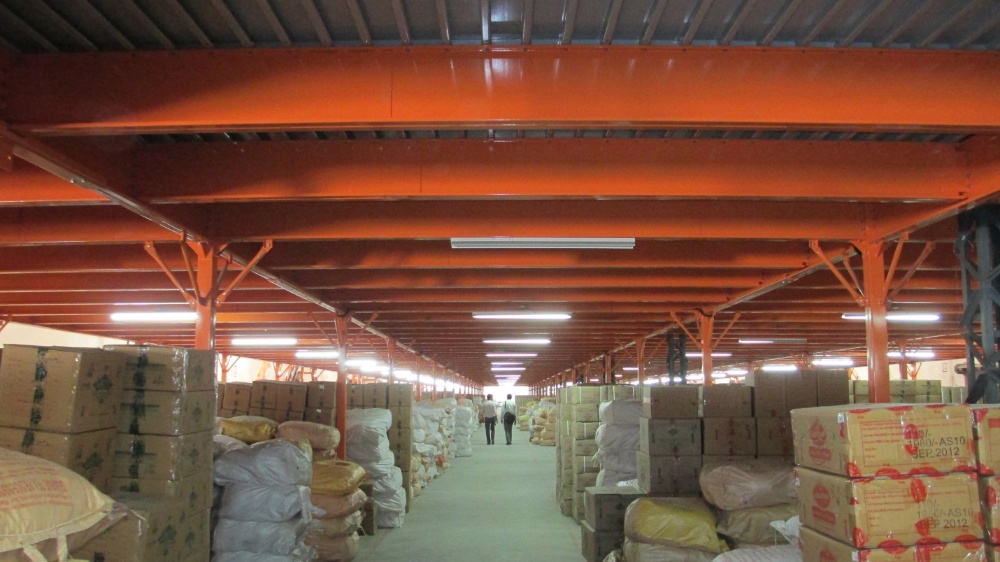 With growing market, the need had arisen to increase the storage facility of finished material to its double quantity.
The processed and packed material is stored in the dispatch warehouse near Ahmadabad, Gujarat warehouse which is in the area of 25000 SFT. The storage space was insufficient during off markets. It was felt to increase the storage to two times capacity. In the ongoing practice all plastic sacks having packed material pouches were stored one over the other up to 5 feet height. The clear height of warehouse was 5.5 meters.
Various strategies were evaluated for addition of storage capacity.
Add new facility of the same size of warehouse in the near location
Make alterations in the same building by adding the floor.
The floor can be of RCC construction
The steel structure welded floor
After careful study of various parameters as per in table-1 below, it was decided to go with pre-fabricated steel mezzanine to increase the storage area to 18200 Square feet due to its distinct features like knocked down construction, complete flexible,-pre- fabricated, powder painted, disturbance free construction to routine ware house operations, cost effectiveness, shorter construction and installation period. Steel construction with four stair case and down chutes was planned for speedy operation for the proposed mezzanine. Railing on all sides was planned for safety and support face to loaded materials. The cost of the mezzanine as installed was calculated to Rs. 500/- per square foot. This is higher to about 35% higher to RCC. But the steel mezzanine was finalized due to its distinct advantages. The payback period on the estimated cost was calculated of 24 months.
More than half a dozen suppliers were approached. The basic design and parameters were evaluated to fit al needs. Steelfur System had provided structurally designed, pre-fabricated all sheet metal construction, zinc phosphated and powder painted steel mezzanine in selected colour choice in shortest supply and its erection duration at competitive cost. The whole assembly was done using zinc plated fasteners.
Evaluation of various approaches for adding warehouse capacity
Description
New Rented warehouse
RCC Mezzanine in under Warehouse under operations
welded steel Mezzanine in the Warehouse under operations
Pre-fabricated steel Mezzanine in the warehouse under operations
Investment
Very high
Moderate
Higher compare to RCC
Lower compare to welded steel mezzanine
Working feasibility
No disturbance to normal warehouse operations
Disturbing warehouse operations throughout construction period
Disturbing warehouse operations but period is shorter
possible to construct w/o disturbing normal warehouse operations
Flexibility
Not applicable
No
Partial
Totally flexible
Operational cost
Increases to two times plus
Direct labour increase to 20%
Direct labour increase to 20%
Direct labour increase to 20%
Painting quality
Okay
Okay
Brush painting and poor
Excellent- pre-treated and powder painted
Knocked down
No
No
No
Yes
Salvage cost
No
No
Yes
Yes
Maintenance
Routine
Routine
Routine
Routine
Time schedule for creating facility
Dependent on the avaibility in the desired location
Higher than welded steel mezzanine
Higher
lower than welded steel mezzanine
Corrosion
Depending on new space acquired
No
More possibility
Least possibility
The supply and installation was done satisfactorily and in stipulated contractual time period. The structure was checked and certified by contractor's structure engineer for its stability and loading and the certificate is issued. The steelfur had provided all services during the warranty period and contractor also offers AMC service or service on call needed for its maintenance.
The pre-fabricated mezzanine in ware house near Ahmadabad, Gujarat is totally satisfactory and such new storage requirements can be built on the similar concept.